Suffering from an Oscars hangover? 

So am I.
Another Oscar night has come and gone, and all we're left with is the memory of gowns, gratitude, selfies and the pizza party we all wish we were invited to! 😀 If you don't know what I'm talking about, then you are seriously missing out!
Okay… not really! 😛  But I genuinely LOVED the Oscars this year! Normally I find it a little boring and watch the whole event in bits and pieces, just to know who won what and who wore what and move on. But this year it was different. Probably because of the host – Ellen DeGeneres. 

I loved the way she hosted the entire event. Her camaraderie with the stars, her star-studded selfie and her comments on Jennifer Lawrence's clumsy moment were hilarious! 😀 But the best of all was the unexpected pizza party! Sure, you thought, Ellen talking about ordering pizza for the assembled stars was a joke, but it wasn't. The pizza delivery guy showed up, and Brad Pitt helped pass out plates and everyone actually started eating pizza without any pretenses! 😀 The whole thing was funny. 
P.S: There is no bad pizza! 😀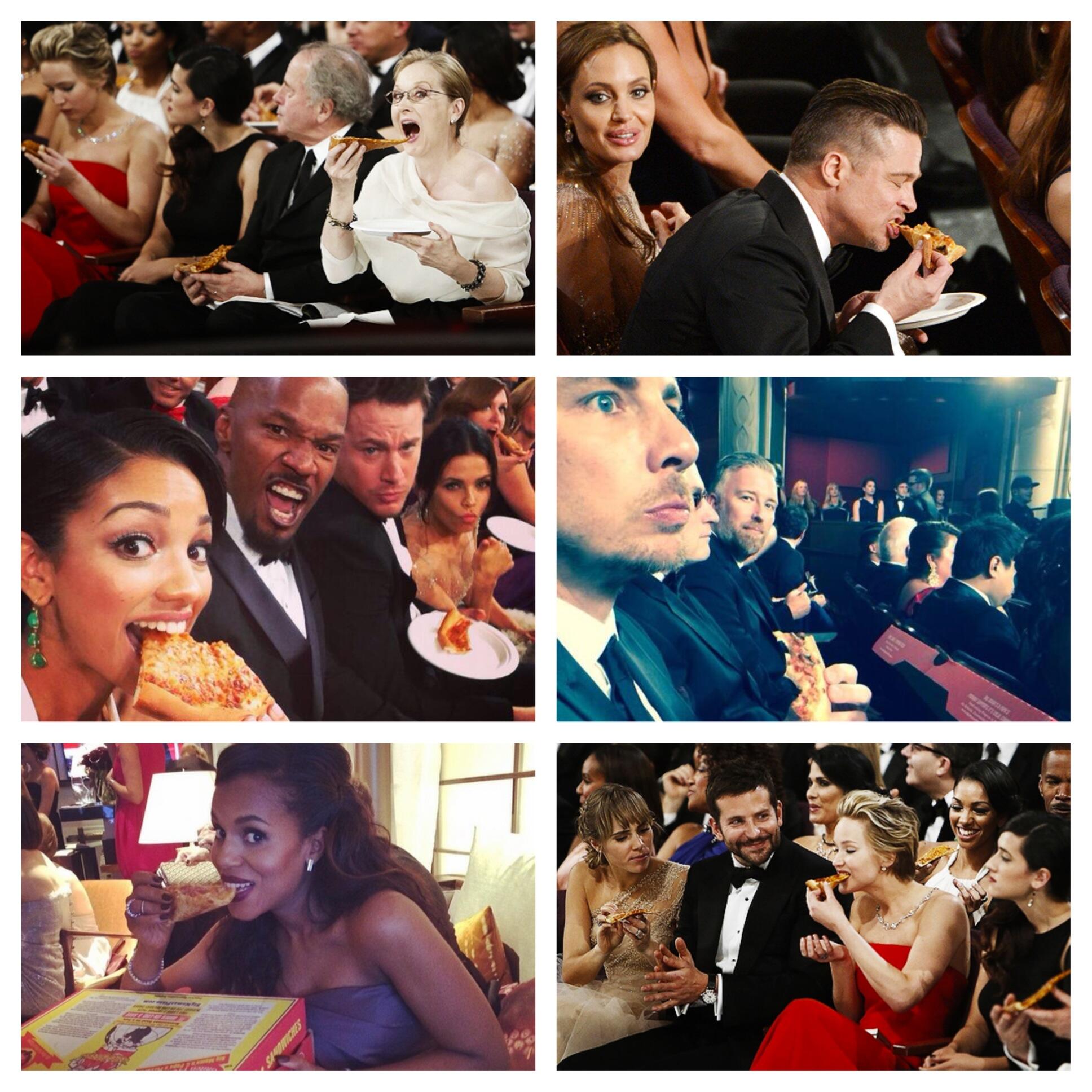 The Oscars is as much about the stunning outfits worn by the stars, as it is about the awards! And this time, the stars pulled out all the stops and sparkles for the 86th Academy Awards! I agree that the Academy Awards is an event to honor the past year in movies. But, it's also about seeing gorgeous clothes on gorgeous people! 😀 And every year after the Oscars, everyone from Vogue to Perez Hilton has something to say about who wore what best and who should never wear it again ever. My overall observation of this year's red carpet was that – it was safe. Most stars played it safe so the few who did take risks stood out even more. There were quite a few stunners! So let's just get right into it. Scroll through below and let's debate the safe, the stunning and the very stylish looks from the 86th Annual Academy Awards.
Lupita Nyong'o in custom Prada
Lupita's gown was declared as the gown of the evening. And I too loved it. It is perfect. The icy blue color against her skin, the movement, the whole effect is just lovely, is it not? However, maybe the headband and the mohawk is just okay? What about a necklace? Anyway, there's no sense in quibbling over something so pretty, so I'm done.
Look at the way she's swishing, swashing her beautiful gown! If I was
wearing that, I would do that too! 😛
Cate Blanchett in Armani Prive
I would have given this an undisputed two thumbs up, if this wasn't worn on the red carpet as much as it has been in the past. Sure, it's a great outfit, but it's not too different from many other embellished/champagne/nude gowns that have previously walked down the red carpet. We've basically seen it before. While she was walking down the red carpet, everyone was asking what her dress was made out of. It's capiz shells. I really wonder how she managed to sit down in that outfit the entire evening. But then again, that's the sort of thing – us pedestrian, non-Blanchette specimens worry about I guess! 😀
The whole sparkling nude/champagne thing is a lil overdone on the red carpet these days. Don't you think?
Kate Hudson in Atelier Versace
Swoon! I loved her outfit! 
 True, the cape moment will forever be owned by Gwyneth Paltrow when she walked down the red carpet in 2012. But this silvery gown on Kate Hudson is just fantastic. It's glamorous, fits like a dream and not surprising at all for K.Hud! 
Anne Hathaway in Gucci
I miss the Anne Hathaway from Princess Diaries and Devil wears Prada. The short pixie haircut is getting a little old now, don't you think? Her outfits are not doing her any favors either. But this Gucci situation is pretty decent, right? It's good on her. A little edgy, a little sparkly, and a definite step ahead from the Prada fail she wore last year to the Oscars!
Jennifer Lawrence in Dior
Ok, so yeah, she tripped again, this time on the red carpet as opposed to running up the Oscar steps to collect her statuette last year. It's her thing! 😀 But she giggled it off and stunned everyone in her strapless Dior. I loved her swept-back bob, that little bit of ruffle/peplum at the hip and the pop of orange. She looked beautiful.
Emma Watson in Vera Wang
Hermione who? That's the message that rang out loud and clear from Emma Watson in this Vera Wang outfit. I love the gunmetal shade of the dress. It's a lil bit rock and roll, don't you think? 
Sandra Bullock in
Alexander McQueen
I loved Sandra Bullock in this beautiful 
midnight
blue gown. It was one of my most favorite outfits of the evening. She looked absolutely stunning and her side swept hair added all the more glamour to the already glamorous outfit!
Penélope Cruz in Giambattista Valli
Penélope Cruz can do no wrong and will do no wrong when it comes to the red carpet! 😀
 She wore the palest of pale pink chiffon gown with a ribbon belt. She made the outfit look so modern and effortless. I stand in awe! 
Meryl Streep in Lanvin
I love her no matter what she wears! And s
ee, it's not what you wear, it's how you wear it.
 She's wearing a monochrome Lanvin gown as if it's sweatshirt and jeans. It's wardrobe confidence and she totally rocks it! 
She was nominated in the Oscars for the 18th time this year! That about tells how awesome an actor she is and I love all her movies!
As far as I'm concerned, my favorites among women from this year's red carpet were Sandra Bullock, Nupita Nyong'o, Penelope Cruz, Jennifer Lawrence, and Kate Hudson! All of them looked stunning and I nearly drooled over all their beautiful outfits! 😀
Now, let's talk about the menfolk. Before I start flapping my jaw about menswear, I don't really know what I'm talking about. I only know what visually pleases me. A man in a tuxedo is almost always a win, but there were a few who really caught my eye. Here are the dashing dudes I was particularly taken with:
Bradley Cooper
Sigh! My heart melts into a puddle at the sight of this guy! 
 He looks handsome no matter what he wears! Period.
Leonardo DiCaprio
Leo's Oscar drought continues! 😀
 Many people felt that he deserved an Oscar for his performance in
Wolf of Wallstreet
. But, even though I am Leo's biggest fan, I don't think Wolf of Wallstreet was one of his best movies. Having said that, I still can't deny the fact
 that he is an awesome actor. So… there's always n
ext time Leo, next time! 🙂
Brad Pitt
Ugghh! It's so hard to find a Brad Pitt photo minus the missus. Let go of him Angie! He's not going anywhere! And I know you'll make sure of it! 
Anyway……. 
Brad
 looked dapper with the mohawk – a look that I saw quite a lot on this year's red carpet! Angie however, looked boring with the repeated embellished, sea urchin(ish!) nude gown!
Matthew McConaughey

Do I like the clotted-cream jacket on Matthew McConaughey? On balance, yes I do. I'm calling this the contingency look because he can whip off the jacket at any point and still have a posh look on with that black waistcoat. See, he's thought of stuff!
There's very little mistake that guys can do when it comes to clothes. Guys are 
really
lucky that way. All you need is a smart tuxedo with a dash of good looks and you are all set! Zac Effron looked quite handsome on the red carpet this year. Although I didn't quite like the skinny trousers that he wore with his tuxedo. Ok, nearly skinny! Zac, please scroll up and take notes from Brad on how a trouser should look! 😛
Ryan Seacrest
Another entrant in the white/off-white tuxedo category. There were quite a few men who sported a white tuxedo this year. Jared Leto included! It was quite a refreshing change from the usual black tuxedo that we normally get to see. And Ryan looked great, as always!
Joseph Gordan Levitt
Even though I find him a little strange, I still like him. I also felt that Mr. Levitt was among the best dressed men this time on the Oscars red carpet too!
Will Smith
Will always manages to try something different when it comes to his clothes. Notice the neckerchief? Sorry, I know that's not a real word. But I'm still making it up. He looks super handsome even with that little bit of extra detail! Jada Pinkett Smith looked quite pretty too.
So, that's it. The above were some of my favorites this time on the Oscars red carpet. Who made your best-dressed list?
The top winners of this year's Oscars were Matthew 
McConaughey (Best Actor), Cate Blanchette (Best Actress), Lupita Nyong'o (Best Supporting Actress) and Jared Leto (Best Supporting Actor). 12 Years A Slave was awarded the best movie of the year!
I'm done. Let me leave you with the oh-so-famous selfie that crashed the twitter network for many, many hours and that received a whopping 2.8 million re-tweets in the matter of hours of it being posted!
From L to R: Jared Leto, Jennifer Lawrence, Channing Tatum, Meryl Streep, Julia Roberts, Ellen DeGeneres,
Kevin Spacey, Brad Pitt, Angelina Jolie, Lupita Nyong'o, Lupita's brother Peter, and finally Bradley Cooper!