Buongiorno!
After an incredible few days in Milano, Varenna, Venezia, Manarola, Pisa and Firenze, we were more than ready to head to the capital city of Italia – Roma!
Those of you who have read my Travel Bucket List, know how much I wanted to visit Rome & Vatican City. Who knew a random post I wrote 4 years ago would actually come true! 🙂 It made me realize how wonderful a space this blog has been. It has given me a platform to express myself and in a way pushed me to realize dreams I never knew existed.
My advice to you ~ Don't ever stop dreaming! 🙂 No matter how ridiculous or out of reach your dreams seem at that moment, don't let anything deter you from dreaming big. Nothing is ever out of reach! 🙂
Now coming back to Roma…. 🙂
We all know Rome is quite possibly the greatest city in the world! It is a city filled with treasures that span millenia and seeing it in person was an absolute dream. It brims with so much character, art and religious architecture that it's quite impossible to see everything in a few days. We had a very carefully planned itinerary that we thankfully stuck to and made sure we made the best of the time we had there.
We started off our day by paying a visit to the smallest country in the world / country within another country – Vatican City! 🙂
Vatican City is an enclaved country within Rome. It is the smallest country in the world which measures up to 0.2 miles in land mass and has a total population of 842 people.
They say the Vatican was initially not a separate country but Mussolini made it one to separate the church and state in 1929. Since then it has its own boundaries, foreign policy, embassies and even its own military – all located within the enclosed walls. The most important person in the Vatican is obviously the Pope and everything revolves around His Holiness. The main places to visit within Vatican City are St. Peter's square, St. Peter's Basilica, the Vatican museums and of course the Sistine Chapel.
St. Peter's square is a large common area filled with gift shops, food vendors and yes, thousands of tourists! 😀 You will see an Obelisk at the center of the square, which was apparently transported to Rome from Egypt in 37 A.D.! It is the location of the crucifixion of St. Peter and the ball on the top of the obelisk is said to contain pieces of the True Cross and ashes of Julius Caesar.
Once inside the Vatican, we were escorted into St. Peter's Basilica which is a 2000-year-old church filled with numerous religious sculptures and works of art. It felt absolutely surreal to walk into this place, almost a feeling of distinctness… like this place had some special aura around it. I won't call it religious or spiritual but more about the history this place has seen and the role it has played through millennia in shaping the world we live in. It can also be the feeling that Michelangelo perhaps entered through the same door as us to paint the Sistine Chapel! 😀
The ceiling of the Sistine Chapel is incredibly beautiful. It was painted by Michelangelo between 1508 -1512. I wish I could have taken pictures but it's not allowed. The ceiling contains scenes depicting God's creation of the world, God's relationship with mankind and mankind's fall from God's grace. You are neither allowed to take pictures nor allowed to speak when you are inside the Sistine Chapel. Don't bother sneaking pictures, the guards will be watching you!
Just forget everything and look up at that beautiful ceiling. At that moment, I couldn't help but wonder about the magnificence of St. Peter's Basilica, that awe inspiring ceiling of the Sistine chapel and people from all walks of life gathered in one place to take it all in. We stood there for a long time and looked around in silence, trying to soak everything in before heading out.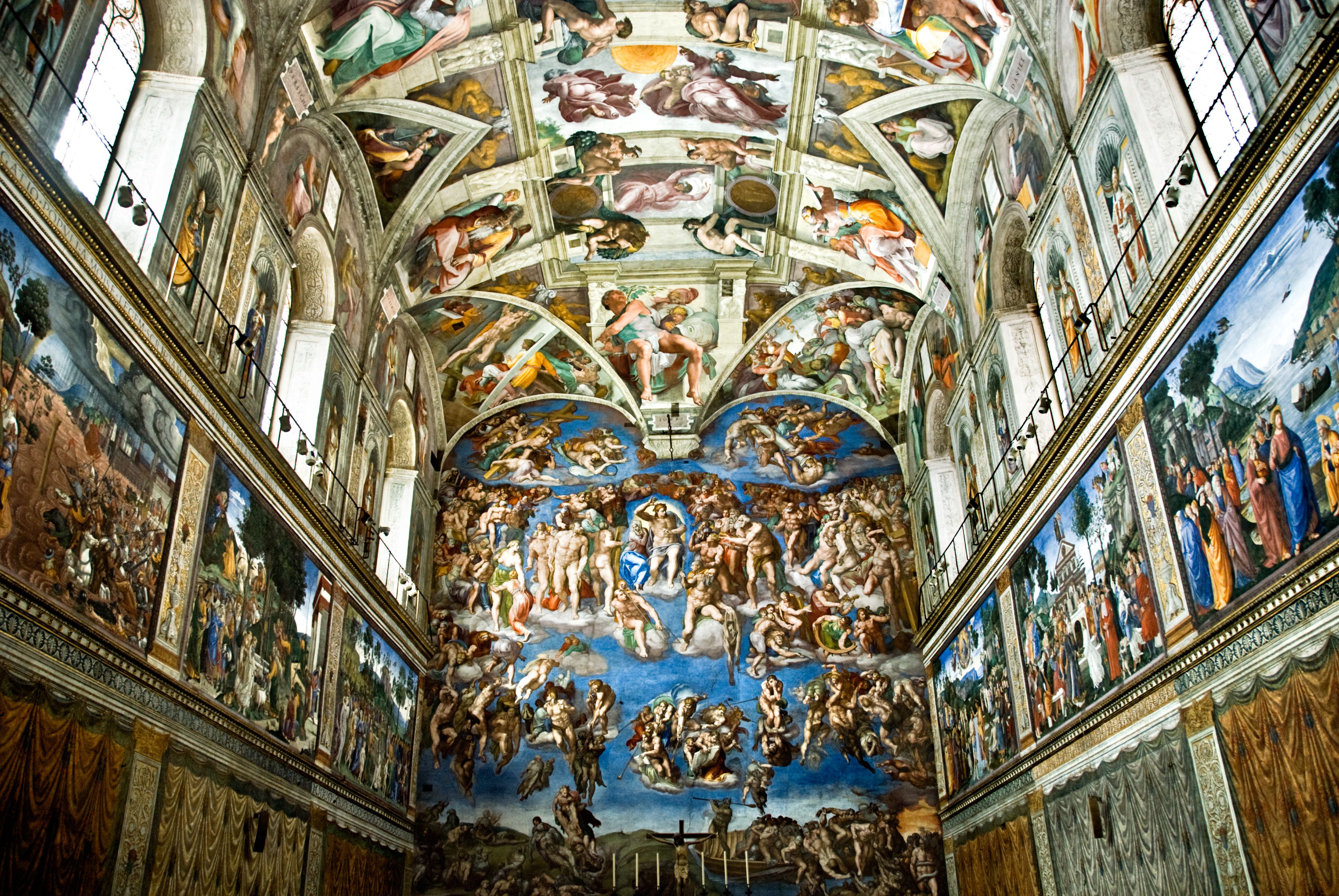 After an amazing tour of the Vatican, we headed outside and rested for a bit in St. Peter's square, grabbed a quick lunch and geared up to see one of the greatest wonders of the world – The Colosseum! 😀
We had booked a walking tour of the Colosseum, Roman Forum, Palatine Hill and Pantheon for the second half of our day. We opted for a guided tour (even when we frankly detest them) since we wanted to know every bit of information and history associated with these places. Unless you are an absolute pro in roman history, I highly suggest you to book a tour for yourself. Without knowing the history and background, you would just be looking at rocks and worn down buildings and that obviously does not make sense.
We started off our tour with Palatine hill, moved on to Roman Forum and Pantheon. We even visited the temple of Caesar, and saw where Julius Caesar was cremated. The Roman Forum houses numerous temples, basilicas, arches, monuments and government buildings inside. It was quite fascinating to learn so much their incredible history!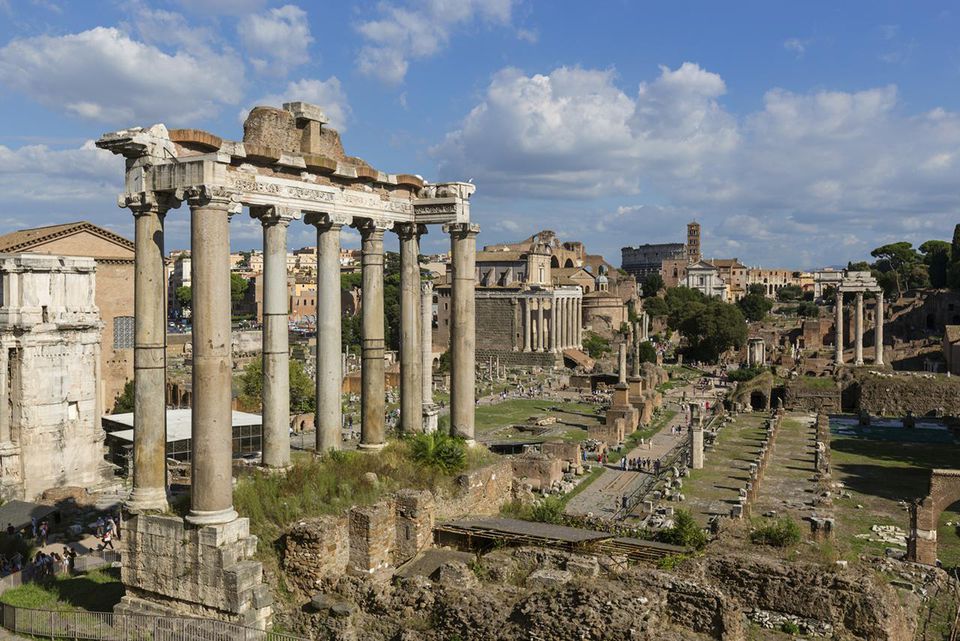 After exploring the roman forum for a while, we finally made our way towards the Colosseum. You will quite honestly be awestruck when you first look at the massive structure.
Since the Middle Ages, the Colosseum has always been regarded as an iconic symbol of Rome. Standing in front of this magnificent structure, I couldn't help but think about something I had read so many years ago – "As long as the Colosseum stands, Rome shall stand; when the Colosseum falls, Rome shall fall; and when Rome falls, the world will end."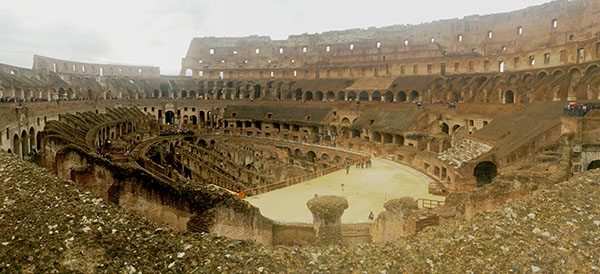 Being the largest amphitheatre of the Roman Empire and in the world today, the Colosseum was a premier venue for gladiator fights and wild beast shows back in the day. The Colosseum was apparently commissioned as a gift to the Roman people around 70-72 A.D. by Emperor Vespasian of the Flavian dynasty. In 80 A.D. , Vespasian's son Titus opened the Colosseum – officially known as the Flavian Amphitheater with the 100 day games.
Our tour guide told us that about 5000 wild animals were slaughtered in that place. Rhinos, crocodiles, bears, elephants, lions, tigers and giraffes were victims of the animal hunt shows that took place in the Colosseum. He even told us stories about various gladiators and about the most popular fights that took place in the arena. Gladiators were generally slaves, condemned criminals or prisoners of war.
To be quite honest, behind all that history, it is still quite chilling to stand in a place where thousands of people and animals were mercilessly killed. If you've ever seen the movie Gladiator, you probably have some idea of the intensity that occurred inside the Colosseum.
We spent a lot of time inside the Colosseum and after having walked for almost 10 hrs straight that day, we finally made our way out to have some dinner. We leisurely explored the city for a while and tried some delicious Italian food as much as we could since Rome was our final stop in Italy.
The next day we decided to just explore the city center at our own pace. It was incredibly hot even in September but we didn't let that hamper our spirit. We would cool ourselves off with some delicious gelato and just keep going! 😛 The first place we visited was Fontana di Trevi.
The amount of people standing in front of the fountain is ridiculous! Getting a decent photo without a million people photo-bombing you is impossible. I quickly made a wish and dropped a coin into the fountain! 🙂 After getting a somewhat decent photo, we just stood behind and admired the incredibly beautiful structure for a while! 🙂
We googled directions to Scalina Spagna / Spanish Steps post that and started walking towards it.
Upon reaching the spanish steps, you will find a fountain called Fontana della Barcaccia, or "Fountain of the Old Boat" at the bottom.
This fountain looks like a sinking ship and based on a folk legend, a fishing boat was apparently carried all the way to this exact spot during a massive flood of the Tiber River in the 16th century.
We admired the fountain for a bit and finally made our way towards the spanish steps. The Spanish Steps apparently have 138 steps and they connect the lower Piazza di Spagna with the upper Piazza Trinita dei Monti, with the twin tower church on the top. The view from the top is amazing and we loved the vibe of this place. We just sat there for a while and soaked in the energy of this eternal city! 🙂
It was sadly time to leave Rome post that and head to our next country. We saw 8 cities in a week and thoroughly enjoyed our journey through this incredible country. It was lovely to reminisce about our stay in Italy through these posts. I hope you enjoyed reading them as much as I did writing about them! 🙂
Do look out for future posts on Greece, Paris and Belgium! 🙂 Until next time..
Ciao! 🙂