Helen is a picturesque, bavarian-inspired mountain town in the Appalachians of Northeast Georgia.
Having been to a few german towns in real Germany, I can comfortably say this bavarian-inspired town looks more german than the actual german towns I've had the pleasure of visiting! 😀
Known for its Vineyards, Bavarian-style buildings and Oktoberfest celebrations, Helen is an amazing option for a quick weekend getaway from Atlanta. We absolutely loved exploring every bit of Helen's quaint, cobblestone streets. It is in fact so picturesque that it looks straight out of a hallmark movie and you won't be able to stop yourself from snapping pictures every step of the way! 😀
Helen is apparently the third most visited place in Georgia. And even though it is a small town, you'll be surprised by how much there is to do here. Let me give you a quick rundown of the things you must do on your next visit to this beautiful, alpine town 🙂
Admire the incredible architecture
This Bavarian style town located in the Blue Ridge Mountains has stunning architecture with pretty cobblestone streets and a very strong German presence. Just walk around the whole town and admire the incredible architecture.
Try some German food & desserts
You cannot come to Helen without trying some German food. There are multiple restaurants that serve amazing german food and you must try some. You can even try some german desserts here to end your day on a fabulous note! 😀
There are several places to buy candy, fudge, peanut brittle and truffles in Helen. The most popular store of them all is the Hansel and Gretel Candy Kitchen. They have the most amazing collection of handmade candy that you should definitely try! 🙂
When in Helen, do as the Bavarians do! Drink!
There are a plenty of drinking options in Helen. First off, it is a German town, so there are plenty of beers to try. If beer is not your thing, there are 21 wineries in the immediate area to visit as well. I haven't tried them since I don't drink, but you certainly can! 😀
Take a carriage ride!
I absolutely loved seeing beautiful horse carriages around Helen. It is just so romantic. I am sure going around in these carriages will be even more cuter in the winter months. 🙂 No wonder Helen looks like it belongs in a hallmark movie! 😀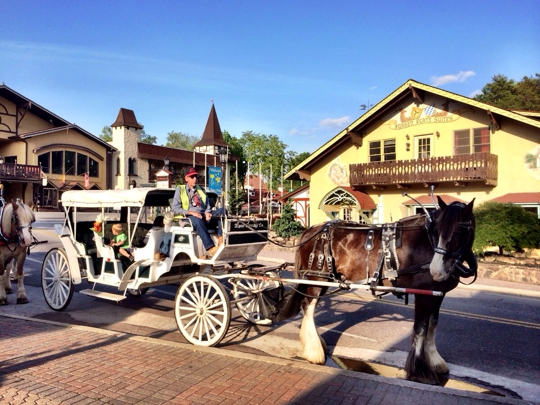 Visit Unicoi State Park
There is just so much to do in this state park! Whether you want to relax or be adventurous, there is something for everyone here. Zip lining, hiking trails, biking, swimming, fishing, canoeing, or taking the boat out on the lake are just some of the opportunities in this beautiful state park. We've been here twice and absolutely loved spending time here! 🙂
Hike to Anna Ruby Falls
One of the top things to do in Helen is going on a hike to Anna Ruby Falls. We've been here twice and have really loved it. With a $3 entry fee per person, you can hike the 0.4 mile trail to the top to see the two waterfalls that meet to form Smith Creek. The trail leading up to the waterfall is very serene and picturesque and the hike along the riverbed is very enjoyable! 🙂
Go tubing on the Chattahoochee
If you visit Helen in the summer months, you will see scores of people tubing down the Chattahoochee. Many restaurants in Helen overlook the river and hence you get a great view of the town and people floating down the river and just enjoying themselves. It is an absolute must try! 
So there have it, those were some of my suggestions on "Things you MUST do in Helen". I really love this adorable, little bavarian town and can't wait to go back there in winter next time! 🙂
Hope you guys enjoyed your virtual tour of Helen as well. 🙂 Until next time….