Medieval squares, horse drawn carriages, gorgeous architecture and pretty cobblestone alleys filled with cafes serving the most delicious waffles, hot cocoa, frites and well, CHOCOLATE! 😍 
Brussels, Belgium's fascinating capital is one of the prettiest cities I've visited in Europe. A day isn't nearly enough to see this beautiful city, but is surely a good amount of time to take in the highlights, visit the popular spots and sample some mouthwatering Belgian treats before bidding adieu! 🙂
We started off our day with seeing a beautiful sunrise by the Eiffel tower and quickly headed to Paris Nord to catch an early morning train to Brussels Midi. It took a little over an hour to reach Brussels, giving us plenty of time to explore.
We had spent a hectic few weeks traveling through Italy and Greece, and hence had no solid plans for Brussels since we wanted to take it easy and just go with the flow. We wanted to explore the city at leisure and see as many important sights as we possibly could – amidst stuffing our faces with innumerable belgian waffles and chocolates of course! 😉
We spent close to 12 hrs in Brussels and managed to cover a lot of ground even without a set itinerary. But to make things easy for you, I am sharing my 1 Day Guide to Brussels, Belgium.
This list is a good mix of clichés and hidden gems, hope you enjoy reading through and adding them on your itinerary during your next visit! 🙂
La Grand Place / Grote Markt
Start off your day at the most popular landmark in Brussels – the Grand Place, also known as Grand Square or Grote Markt (Grand Market). It is a UNESCO World Heritage site which has played host to countless historical events. 
This slideshow requires JavaScript.
It is the central most square of Brussels that is surrounded by opulent guildhalls and two larger edifices – the city's Town Hall and the King's House / Breadhouse building containing the Museum of the City of Brussels.
Walk around the square for a while and head to the Museum of the city of Brussels. This museum showcases the incredible history of Brussels and also houses the original statue of Manneken Pis – Belgium's famous peeing fountain! 😀
Manneken Pis, Jeanneke-Pis and Zinneke Pis
After you're done exploring the museum, grab a waffle (or two 😉 ) and start walking towards the Manneken Pis! It's not too far from Grand Place. Seek help from your pal (Google Maps) and walk around the city to see all 3 statues.
These iconic little statues are hidden all around the city and you absolutely have to see to believe! There are three in total, Manneken Pis is a fountain of a little boy peeing, Zinneke Pis is of a dog, and Jeanneke-Pis is of a little girl. Manneken Pis is the most famous of them all.
You will undoubtedly pass all three as you walk around the city, but be sure to keep your eyes open or you might miss one.
Manneken Pis Museum
We were walking around the Museum of Brussels and one of the ladies who worked there suggested we take a look at the Manneken Pis Museum, which was located not too far from Grand Place.
Since we had no definite plan, we headed towards this museum soon after seeing the original and the fake Manneken Pis statue. 😛
The fountain of Manneken Pis is absolutely iconic in Belgium with a fascinating history. The statue was apparently vandalized and stolen quite a few times, after which was transferred to the museum for safekeeping.
Manneken Pis's outfits change frequently and he has over 900 custom-made outfits in his wardrobe! 😀 You can see every outfit that he has ever worn displayed in the museum.
This slideshow requires JavaScript.
We loved visiting this museum. Manneken Pis's history is absolutely fascinating and hence is an absolute must-visit! 😀
Visit the Comic Strip Murals
Until I visited Brussels, I had no idea comics were such a big deal here. This city is the birthplace of iconic comics like Tintin and Smurfs and in honor of these comics and many others, you will find comic strip murals all over the city.
Start at the Comic Book Centre, and make your way around the comic book route to try to catch them all if you have the time.
The statue of counts Egmont and Hoorn
We came across a park while leisurely walking around Brussels and a statue of two men placed at the center of the park caught our attention from the outside. Upon wondering who they were, we decided to go inside and take a closer look.
These were the statues of counts Egmont and Hoorn – national heroes of Belgium.
They were beheaded by King Philip II in Grand-Place, Brussels in 1567. Lamoral, Count of Egmont and Philippe de Montmorency, Count de Hoorne were among the nobles and commoners rebelling against the hardships that the Spanish overlords had brought to the Low Countries. Egmont and Hoorne were imprisoned in Maison du Roi; tried; found guilty; and beheaded in Grand-Place. These men are celebrated as leaders in Belgium's fight for independence.
Placed in Zavel park, these statues are apparently placed right in front of the place where Count Egmont's residence once stood. It was wonderful to visit this park and since we couldn't find too information written under the statues, I took a little help from my pal (Google 😀 ) and learnt so much about Belgium's fascinating history and both of these national heroes. So the next time you find yourself strolling through a park in Brussels and see this particular statue, you won't have to wonder 'who's that?' anymore! 😀
Tintin Museum / Musée Hergé
If you are an ardent Tintin fan, you should definitely not miss the museum. My husband loves Tintin since he grew up reading it and hence we visited a lot of places connected to this incredible comic.
It's really amazing. Tintin comics and souvenirs are sold all over the city and you will also find numerous Tintin murals on walls while walking around Brussels.
This slideshow requires JavaScript.
Visit the Royal Palace of Brussels
Just a short walk from Place Royal is the stunning Palais Royal, also known as the Royal Palace of Brussels.
The Belgian royal family live in the Royal Palace of Laeken (located 3 miles north of Brussels), but the Royal Palace of Brussels is still considered as their official residence.
It is also used for state events and its royal apartments and suites are used by visiting heads of state. The palace also houses the royal collection, consisting of state portraits and important furniture of Napoleon, Leopold I, King Louis Philippe and Leopold II.
Go for a stroll in Brussels Park
Right in front of the Palais Royal is Brussels Park, the most central of the city's main parks with tree-shaded walkways all around. It is also home to several public buildings and monuments.
Facing the palace across the park is the Palace of the Nation. The Belgian Federal Parliament, the bicameral parliament of Belgium consisting of the Chamber of Representatives and the Senate, sits here.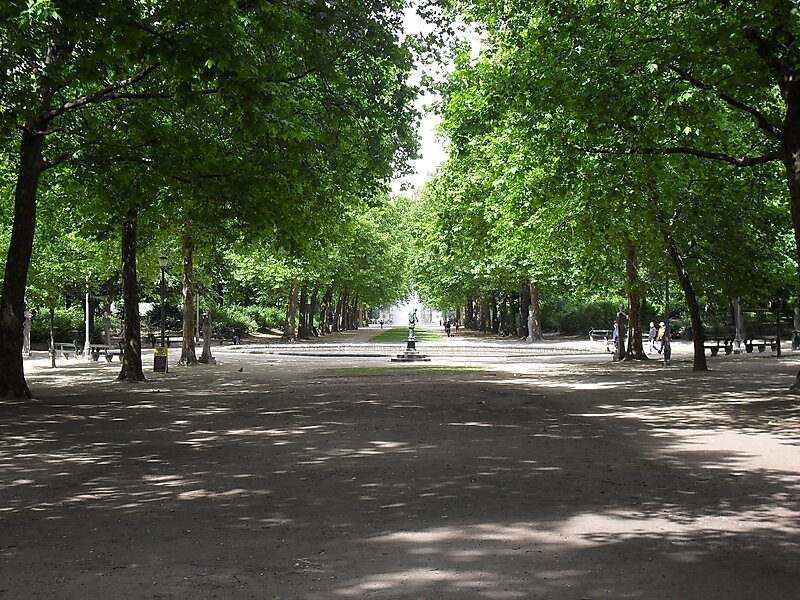 Notre Dame du Sablon
Honestly speaking, we had no idea there was a Notre Dame cathedral in Brussels. 😛 It was just a happy coincidence that we chanced upon this beautiful structure while leisurely strolling around the city.
The architecture of this incredibly beautiful cathedral immediately caught our attention and after looking at doing some research, we realized this was Notre dame. It is absolutely stunning and a definite must-visit!
Go on a food tour around Brussels
Now that you're done exploring Brussels, how can you leave without tasting some delicious Belgian specialities! 😀 The most popular of them all are the chocolates, waffles, frites, seafood, hot chocolate and beer. They clearly have something for everybody! 😛
The smell of freshly made waffles wafting through the streets will lure you into cafes even if you don't want to. So, leave your diet back home where it belongs! 😀 
The chocolates in Belgium are not just chocolates, but an art form. You will find thousands of options and the storefronts of the most prestigious chocolatiers look like jewelry stores with assortments of treats arranged and displayed in glass cases. The Belgian hot chocolate is also something to die for and is ridiculously delicious.
My favourite Belgian specialty were the crispy frites, a.k.a fries! 😛 Come to Belgium and you will hear the locals tell you that it was here that the fries / frites were invented (not France 😀 ). So don't call them french fries when you're here, unless you want an earful! 😛
But honestly, no matter where they were invented, these frites are mind blowing and should definitely not be missed! 🙂
So those are my suggestions for "Things you could do in Brussels in a Day". You should definitely add Atomium and Cathedral of St. Michael & St. Gudu on your agenda if you have the time. We on other hand didn't have the time and hence couldn't visit these places. But they are definitely a part of our future Brussels itinerary! 🙂
We loved exploring Brussels and can't wait to come back to Belgium another time. We might add Bruges, Antwerp and Ghent on our agenda next time, who knows? 😀
Thanks for taking the time out of your busy, busy, crazy day to come in and read my post. 🙂 Until my next adventure…